Have you met our wine list?
While known for steaks and great seafood, the solid foundation for the one-of-a-kind dinner you experience with us at Kirby's Steakhouse in San Antonio is enhanced through our seemingly endless wine list. Have you seen it?
Upon entering the dining room, you will notice our wine cellar, as it is the focal point of the room. The 3,500-bottle, temperature-controlled wine cellar separates the main dining room from the lounge and bar area. Completely enclosed in glass, the cellar is an impressive physical representation of our focus and commitment to the marriage of exquisite wine and delectable food. When you look at our wine list, you see our devotion to those bottles in the cellar.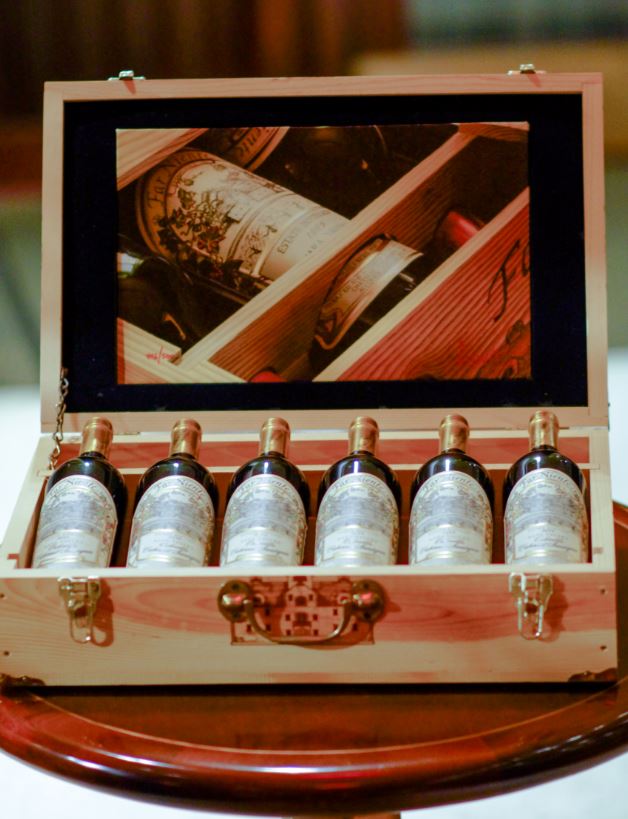 Our Conversation-Starting Wines
We have an extensive wine list with more than 400 labels from across the world. The majority of the selections hail from U.S. wineries in California, Washington, and Oregon.
"With an inventory of over $100,000, our philosophy is to offer our guests excellent value and quality at all price points," says Sam Miller, our certified sommelier. "We also offer a variety of selections from some of the finest producers of France, Italy, Spain, Australia, and South America."
We continually strive for the staff to increase their knowledge base. This commitment is realized with help from the two certified sommeliers on staff. In addition, we have five more employees who have finished the Court of Master Sommeliers Introductory Course.
Our staff's knowledge of wine continues to deepen each month. Every two weeks our entire staff meets to learn more about the wines served in our restaurant.
"Each meeting consists of blind tasting, expanding everyone's knowledge of not only our wine list but regional and AVA characteristics in general," Miller explains. "Each meeting focuses on one or two specific winemaking regions of the world and the specific varietals grown there climate and soil characteristics, and stylistic differences."
All of our service staff and bartenders are well-versed in the world of wine and pairing with food. We offer daily pairings with the featured off-menu entrees – each of which is created by our executive chef with the freshest local ingredients.
Choosing which way to go
Cabernet and cabernet-based blends are our most popular wines. We offer several recognizable brands such as Jordan, Caymus, and Silver Oak, but we also focus on smaller producers. Some of our guests' favorites are Hawkes from Alexander Valley, Ehlers Estate, and Frias Family from Napa.
"A couple of my personal favorites to sell are Stout Family Cabernet, which is made by the son of Guy Stout–Texas's first master sommelier. Inizi from Calistoga makes two great choices. One is a zinfandel and the other is an Italian varietal blend called Hi-Jump," Miller says.
Pinot noir is the second most requested type of wine we serve.  We are the first restaurant in Texas to serve Bravium pinot from Anderson Valley. Etude is another good choice and has some great pinot coming out of Carneros. Emeritus and Merry Edwards are pinot fan favorites from the Russian River Valley.
While white wines aren't as popular here at Kirby's, Hawkes chardonnay does well here as well as Crossbarn Chardonnay by Paul Hobbs. Domaine Serene's Coeur Blanc white pinot noir from Oregon is another popular option when looking for a white wine.
Returning for more conversation
We are serious about creating the perfect atmosphere for you to make memories – whether you're with your family or with your business partners. It doesn't matter to us whether you are savvy about wine or not, we're excited to help you make the perfect pairing either way.
"We keep detailed notes on all repeat guests and take pride in introducing both the wine novice and wine savvy customer to new and unfamiliar wines as much as possible.  We believe the only way to accomplish this is by earning the guest's trust with an abundance of knowledge and training."