10 Reasons You Will Love Planning Your Next Special Event at Kirby's Steakhouse
Our prime steaks are probably the first thing that pop into your head when someone mentions Kirby's, quickly followed by our extensive wine selection and knowledgeable staff. Our private dining rooms probably aren't high on that list, but they should be.
Whether you're throwing an engagement party, wedding reception, cocktail hour, or parents' surprise anniversary bash, Kirby's is the place you'll want to host it. Our professional event coordinators create a one-of-a-kind experience for each special event.
Our experienced team handles all the heavy lifting, and we will transform our space to meet and surpass your needs. There are more reasons than we can list for booking with Kirby's for your next special event, but we'll stick to the top ten.
10. Guest Transportation and Complimentary Valet
We can provide your large group with transportation to and from our locations in one of our shuttles, rent limos for your group, or provide complimentary valet services. Driving and parking in busy locations can be a hassle, and your event should be everything you want it to be without having to deal with mundane details. Let us take that off your plate.
9. Wine Selection
While each Kirby's location has a slight variation in their wine list, you will no doubt find something to satisfy every palette. We have bottles sourced from across the globe and an on-site sommelier to help you make a perfect choice.
8. Personalized Menus Created by Kirby's Chefs
You already love our steak and seafood and our macaroni and cheese is divine. Whether you are celebrating your company's 40th anniversary or your son's graduation from medical school, our chefs will craft the perfect menu for your party. Don't see something on the menu? Just ask. We love to make dreams come true.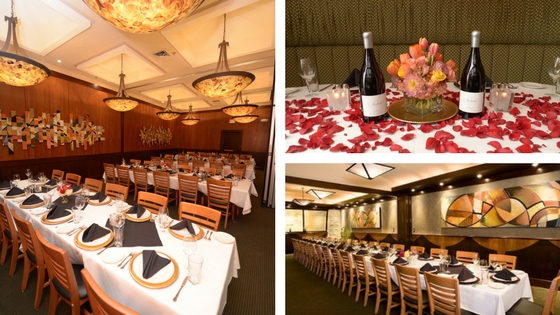 7. Chef and Sommelier Paired Tastings
At Kirby's our chefs and sommeliers work together to create dishes and pairings that will delight even the pickiest of diners. Moreover, the chefs and sommeliers can create tasting menus of anything from an oyster bar with perfectly paired wine to a hand-picked scotch tasting with appetizer plates to accompany. Whatever your party requires, Kirby's can provide it and more.
6. Live Entertainment
Booking bands, DJs, photo booths, or speakers is no problem for our event planners. Want to show some serious school pride for a graduation party? We'll book the school's mascots and decorate the space in school colors. If you're pulling your girls together for a bachelorette party, we can book a guided painting party to amplify your wine tasting. If you'd like to learn about wine selection, cocktail mixing, or menu planning through our experts, we can set up educational seminars for you.
5. Audio and Visual Capabilities
Slideshows full of personal photos are an important part of birthdays, anniversaries, engagements, and wedding receptions. We wouldn't let you miss out on enjoying a single photo, which is why our spaces include the ability to screen high-quality visual media with audio. We also have the capability for you to share your PowerPoint presentations and videos for business gatherings. We can accommodate whatever your audio and visual needs may beCustom
4. Cocktail Creation
Do you have a guest of honor? Show them how special they are with a personalized cocktail created by our experienced bar staff. Our bar staff could create a themed drink for your alma mater during your class reunion or for your company's golden anniversary.
3. Photographers
No matter why you need a private event space, there is no doubt it is an event you won't want to forget. Let us help you show off the memories you make through professional photography. Whether it is couples' photography, group shots, or candid photos of everyone, we will supply professional photographers who will provide you with hard copies of the precious moments you spent with us at Kirby's.
2. Custom Décor Based on Your Event
Banish the thought of Kirby's as a steakhouse from your mind. No matter what style you are looking to achieve we can make it happen for you. Floral arrangements, table arrangements, and ice sculptures are simply a few of the custom items we can supply to help your guests experience the perfect atmosphere for your special event.
1. Rent Private Rooms or the Entire Space
We have the freedom to customize just about anything for your next event. Rent one of our private rooms or the entire Kirby's location – it's up to you and your needs. Our staff is ready to take away the burden of planning and it is our pleasure to remove the details from your schedule.
We love thinking outside the box, and we're looking forward to helping you plan your next special event. When you're ready for more information, contact Ashley Avery, and we'll get started putting together an experience your guests will be talking about for weeks to come.