Why You Should Ditch The Potato Skins This Game Day
Football season has arrived! It's time for good times with great friends, cheering on your favorite teams. While football is always exciting, sometimes your tailgating experience can become mundane. Mix up your typical game day routine and start a new tradition!  It's time to ditch the potato skins and head over to Kirby's Steakhouse.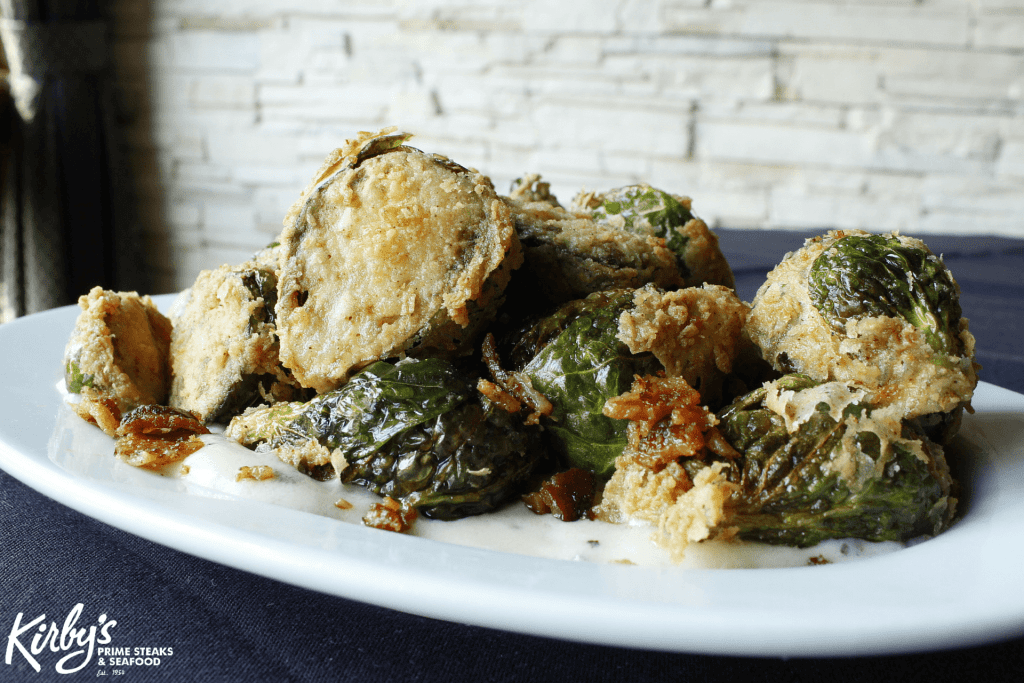 What's wrong with potato skins? While everyone enjoys a good potato skin, it's time to step out of the box and explore new tailgating cuisine. Why not try something new this season? Step up the way you watch your favorite team throw the pigskin with prime rib sliders, duck fat fries, or ahi tuna nachos.
How You Can Upgrade Your Football Experience
Start your evening of football at a Kirby's bar. Enjoy half off appetizers and drink specials during each location's Happy Hour. Enjoy a cocktail and snack at the bar while watching the kickoff or pre-game updates before moving to a table for a multi-course dinner and the rest of the game.
Don't worry about being able to see a TV. All Kirby's locations have large flat screen televisions perfect for viewing your game of choice. We show any regional, college, and NFL games playing on ESPN stations.
Relax in One of Our Private Dining Rooms or Rent Out the Bar
Do you need a place to host your alumni association's viewing party? Rent a private room or the entire location! There's nothing better than relaxing with family and friends on game day. Just imagine cheering on your team at the bar during the game followed by a luxury private dinner. Enjoy any of our delicious entrees or request a personalized menu from Kirby's chefs. We can even provide your group with transportation to and from our locations. Our staff is ready to help you plan your next event with a one-of-a-kind experience for you and your friends.
Toast Touchdowns in Style
Raise a glass for your team with your drink of choice. We are known for our extensive wine selection, but our menu also features delicious hand-crafted cocktails and liquor options. Choose from a variety of scotch, whiskey, bourbon, and more! We have drinks for every palate.
Enjoy Upscale Twists on Your Favorite Tailgate Foods
The chefs at Kirby's are culinary artists, creating delicious Bar Bites, Tapas, Prime Plates, and entrees that will make your mouth water. Skip the stadium nachos and upgrade to ahi tuna nachos. If you're looking for some green on your plate, try our Chicken Fried Brussel Sprouts or Fried Zucchini. Prefer a hearty option? Dig into Kirby's Frito Pie or one of our many slider options. Who needs potato skins or a hot dog when you can have Smoked Chicken Wings or Bone-In Filet Chops? And, of course, there is always steak!
Kirby's menus vary by location and are updated seasonally to showcase the freshest cuisine, allowing our chefs to create new and exciting treats.
Explore our bar menus below: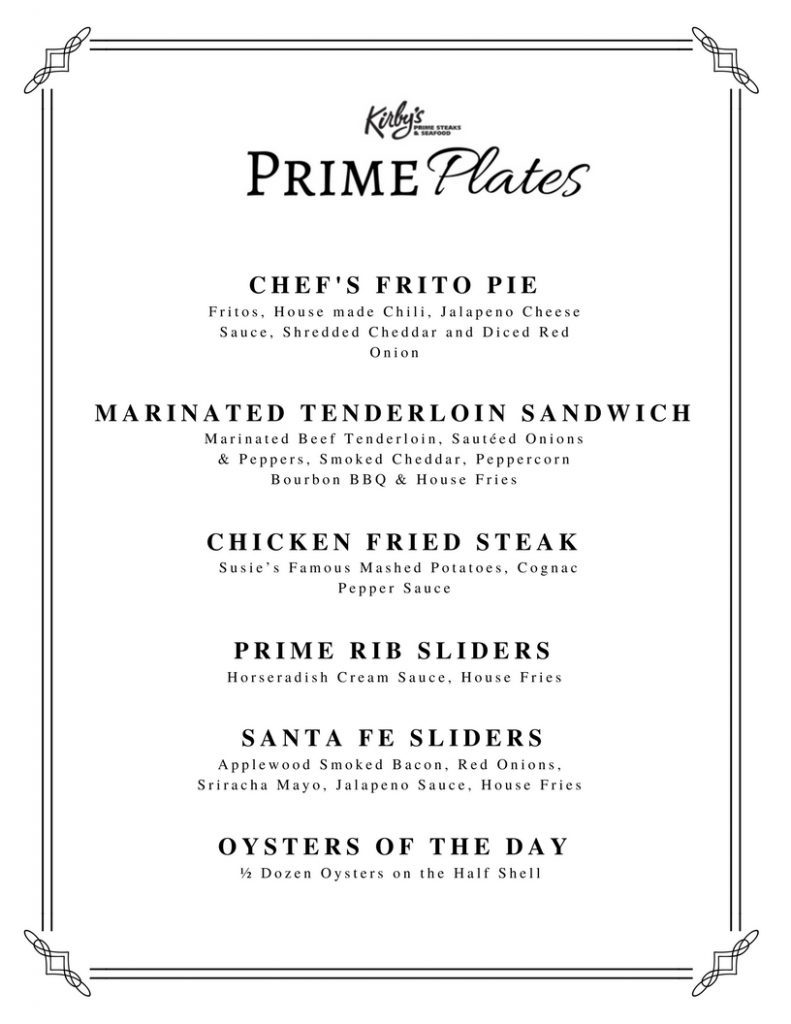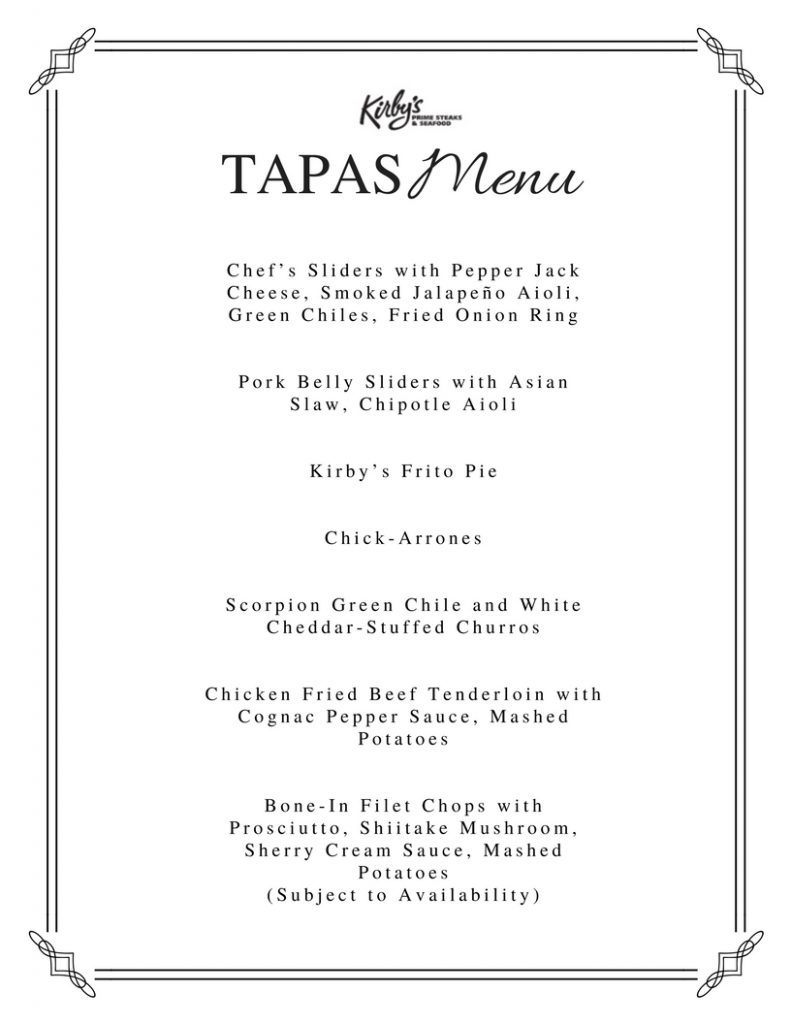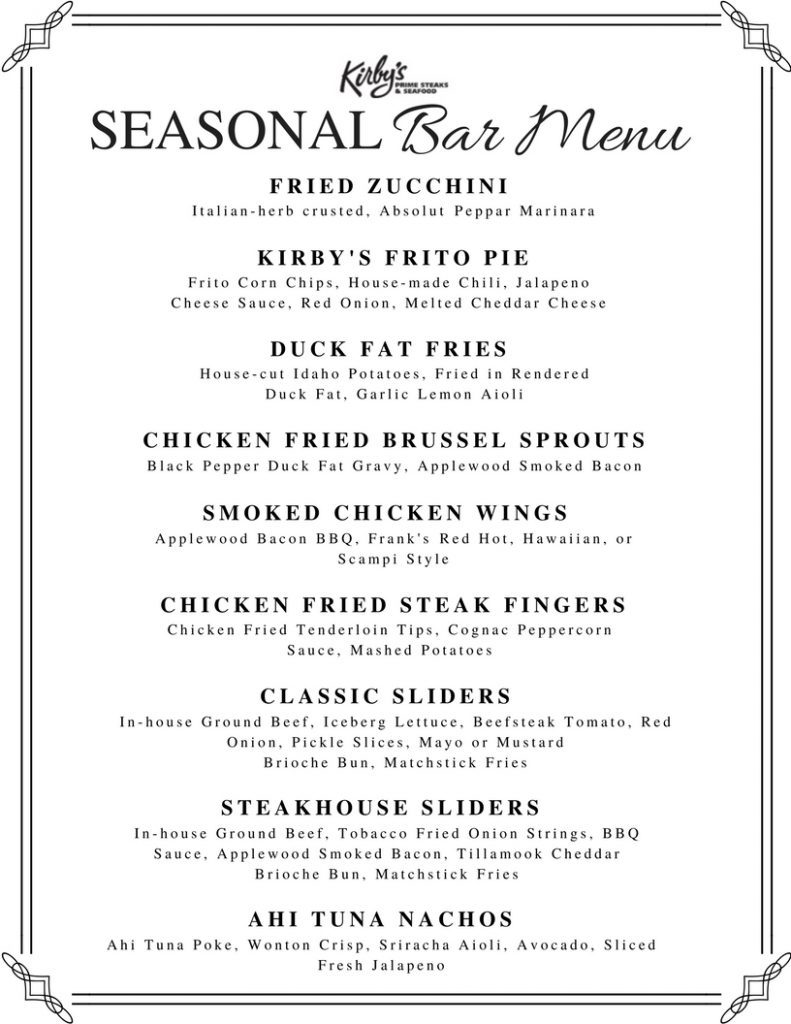 Kirby's chefs reserve the right to modify these menus at any time. Come on in and enjoy our delicious bar food and cheer on your favorite team. It's time to refine your game day experience at Kirby's Steakhouse.