20 Gifts for the Steak Lover in Your Life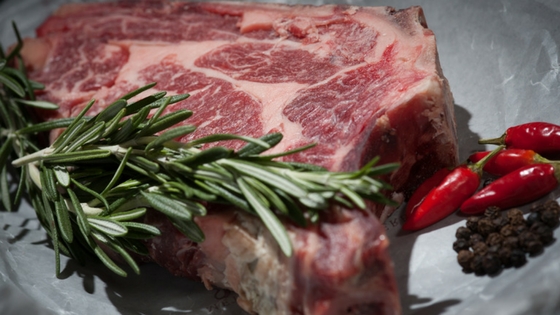 Whether you're shopping for a birthday, anniversary, or holiday, choosing a gift for a foodie – especially a steak connoisseur – can be difficult. This year, Kirby's Steakhouse is here to help. We know our way around a grill and have compiled a list of premiere gifts to enhance any steak lover's grilling experience.
Update: Links have been changed to reflect new items for 2020.
Gifts for the Perfect Grilling Station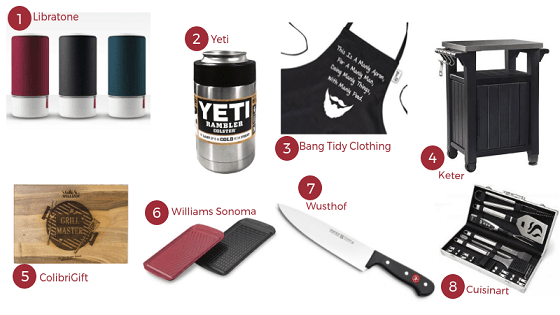 From set-up to take down, a grill station needs entertainment. With this speaker, your steak aficionado can jam to any Spotify playlists or listen to the game while preparing the perfect steak.
Yeti Colster
Don't miss out on Happy Hour while standing around the grill. This Yeti Colster's stainless steel design will keep canned or bottled beverages cool for extended periods without condensation or freezing hands.
Protect clothing from the dangers of grilling with this humorous apron. If your grill master is embarrassed to wear an apron, this will assure him that he is still "manly" while wearing it.
Keter Unity Entertainment Storage Unit
This multipurpose storage unit can serve as a prep table, outdoor bar cart, or grill-side table. Have a place to put drinks or rest utensils without risking dropping anything on the ground.
While it's best to use plastic cutting boards for raw meat, wood cutting boards are perfect for preparing kabobs or vegetable sides for the grill. This board is customizable to fit any personality.
Use these two melamine trays to transport meat without contamination. Put raw meat on the red tray and, once cooked, place it on the black tray for serving.
This high carbon steel knife features a heat-resistant handle and laser-cut blade. The BBQ Guys recommend this knife, and for good reason. It's constructed to be versatile and balanced, the perfect combination for a prep knife.
Buy all the grilling utensils your steak fan needs in one, sleek aluminum case. This set includes a spatula, basting brush, corn holders, skewers, grill cleaning brush, replacement brush, and a digital temperature fork – all constructed with stainless steel.
Steak Preparation Gifts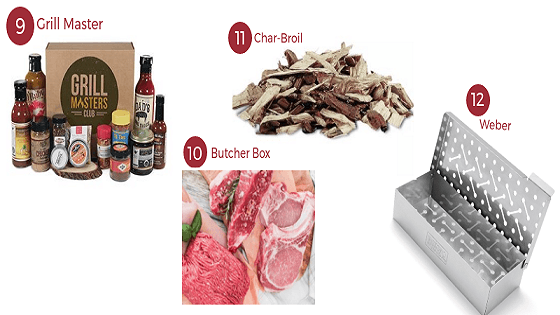 Give your steak aficionado the gift that keeps on giving with a subscription to the Grill Master's Club. Available in one-, three-, six-, and twelve-month packages, this club will deliver unique seasonings, sauces, and rubs to your grill master's doorstep.
Butcher Box Subscription
Have quality cuts of meat sent to your foodie's home with this monthly subscription. From grass-fed beef to heritage breed pork to free-range organic chicken, this box will provide opportunities to learn how to grill a variety of cuts of meat. Every package is eco-friendly and guarantees the meat will arrive cold and vacuum-sealed for freshness.
Mesquite Wood Chips
Give the gift of flavor with mesquite wood chips. Bring an earthy taste to red meats and smoke in a time crunch with these quickly heated chips.
Nothing pairs better with wood chips than a smoker box. Let smoke augment the meal with this easy-to-use box.
Gifts to Enhance Grilling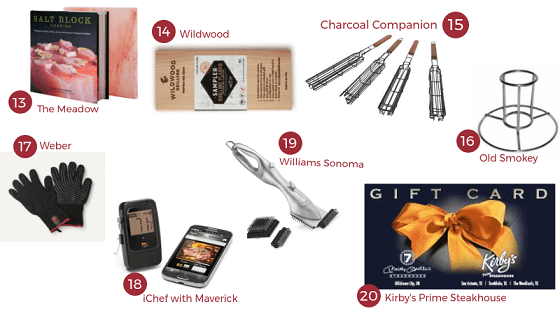 Salt blocks provide a unique way to prepare food. Able to withstand both high and low temperatures, they are perfect for cooking meat or serving cheese and fruit. The accompanying cookbook provides many tips and recipes for utilizing the salt block.  The Meadow even has a handy information guide to teach proper maintenance and care.
Help your grill master easily achieve a smoky flavor with wood grilling planks. Essentially, these planks allow for quick grilling and easy cleanup, along with a delicious smoky flavor. The Art of Manliness blog provides a behind-the-scenes look at the benefits of grilling planks.
Kabob skewers can become messy and potentially dangerous for children. Skip the skewers with these kabob baskets available at The Home Depot.
Old Smokey Beer Can Chicken Holder
Help your steak connoisseur mix things up with a fun, flavorful way to cook chicken. This Beer Can Chicken Holder allows you to flavor chicken with beer (or soda).
These specialty gloves will keep your grill master's hands protected while operating the grill. Made of heat-resistant materials and a silicone palm covering, these gloves provide flexibility and grip for handling tools and meat.
Giving the gift of mobility with this Bluetooth thermometer will allow your foodie to stay connected to the grill from a distance of up to 160 feet. Track up to four food temperatures from an app on a Bluetooth enabled device. Achieve the perfect steak with these grilling tips from Kirby's chefs.
This brush will get any grill as clean as a whistle. Its steam capabilities sterilize the grill while the stainless-steel brush bristles scrub away all residue.
The Ultimate Fine Dining Experience for your Steak Lover
While steak connoisseurs typically enjoy grilling their own steaks, it's nice to have a quality steak prepared by the pros. Treat your steak aficionado to a night out at Kirby's Prime Steakhouse with a Kirby's gift card. Whether you are relaxing after the holidays, celebrating an anniversary, or just need a night out of the house, dinner at Kirby's is the perfect way to unwind with premiere cuts of steak.
Bonus Gift: Kirby's Steakhouse Prime Rib Take-Out
From November 1 through December 31, Kirby's Steakhouse is offering Prime Rib and Prime Rib Feast take-out options. Celebrate your foodie at home with luxury cuisine prepared by our talented chefs. Our fully prepared prime rib is 11-13 pounds. Choose between a Mesquite Smoked or Slow Roasted loin paired with au jus and creamy horseradish. The Feast also includes a house salad with choice of dressing, Susie's Famous Mashed Potatoes, fresh green beans, and a fresh baked apple or pecan pie.
Gift-giving can be stressful. This year, let's take the stress out of shopping. Purchase the perfect gift for the steak lover in your life and treat yourself to some delicious cuisine.