11 New Year's Resolutions for Foodies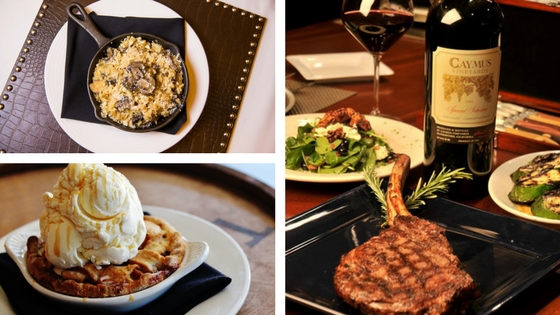 As 2017 comes to a close, it's time to reflect on the past year and start making plans for the next. One way to improve in the new year is through New Year's Resolutions. We've all made them and we've all failed to complete them. This year, Kirby's Steakhouse has compiled a list of fun culinary resolutions – New Year's Resolutions for Foodies, if you will – that you're bound to complete without fail.
1. Take a cooking class
Is there a certain type of food that you've always wanted to prepare but have lacked the motivation to try? Attending a cooking class can be a fun way to try something new while learning with a group. Bring your best friend or your significant other for a night out (and a delicious meal).
2. Grab lunch at a local food truck
Food trucks are a great way to sample unique foods while enjoying the outdoors. Take a break from the office and grab a meal at a food truck with your coworkers. A little fresh air and delicious food always help improve the day.
3. Host a Wine or Scotch Tasting
Whip up some hors d'oeuvres and invite your friends and family over for a wine or scotch tasting. Have each guest bring their favorite bottle and sip the night away with good company. Don't know what to supply? Any selection from our wine list is sure to impress. If you don't want to host the event at your home, our Kirby's Event Staff has private dining down to a T. From our shuttle service to our personalized menus, your event will be a breeze.
4. Visit your local farmers market
Fresh, locally grown ingredients can improve any dish. Visiting your local farmers market is a great way to spend a beautiful morning while supporting local businesses. There are a variety of farmers markets to visit in Texas, especially in The Woodlands and San Antonio.
5. Try two new recipes each month
Take a break from your tried and true recipes to cook something new. We know, your version is the best. It can still be your favorite! Mix things up a bit with a new flair on your favorite dishes twice a month. Who knows what new favorites you might discover.
6. Learn a new cooking technique
Are you envious of the knife skills you see on the Food Network? Maybe you've always wanted to learn how to make your own cheese or use a wok. Maybe you want to play in the big league and try infusion techniques with your foods and beverages. There's no better time to try a new cooking technique than in 2018.
7. Read a food book
Sometimes we need a little culinary inspiration. Next time you go to pick up a book, grab one of these non-fiction food books. Become motivated by the travel adventures of chefs or the truths behind some of the world's favorite cuisine.
8. Try a new style of cuisine
From tasting food you're scared of to ordering your steak cooked to a different doneness, this is an easy resolution to check off your list. Make a night of it! Go out with a group, try something new, and follow it up with your favorite dessert.
9. Enjoy Steak Saturday or Seafood Sunday once a month
Treat yourself monthly to your favorite steak or seafood dish. Personally, we think Steak Saturday and Seafood Sunday should be held weekly, but that is up for your own discretion. The Kirby's Steakhouse menu and rotating specials provide a variety of steak and seafood options to help you experience a variety of dishes without repetition.
10. Plant an herb and vegetable garden
Bring fresh herbs and vegetables to the comfort of your backyard with an herb and vegetable garden. When you grow your food yourself, you know that it is fresh and free from contamination. Plus, all you have to do is step outside for an ingredient instead of rushing to the store. If you ask us, 2018 is a great time to earn your green thumb.
11. Cook the perfect steak
Sometimes grilling can be a hassle. From achieving the perfect heat to cooking the meat so it's safe but still juicy, cooking steak can leave you wishing you had just gone out. Luckily, we are one step ahead of you and have some pro tips for cooking steak from our Kirby's chefs.
These new year's resolutions are sure to keep you busy during 2018. It's nice to challenge yourself to try something new every once in a while. Make sure to keep an eye on our events calendar for other experiences to add to your 2018 calendar. You never know what you might discover at Kirby's!