If you're looking for a one-of-a-kind catering experience in San Antonio, look no further than Kirby's Prime Steakhouse. We aim to bring the excellence of our in-house fine dining menu to the masses. Whether you're looking to bring a fine menu to a wedding, party, or business event, ensure your guests have the finest food to delight their taste buds.
Our extensive menu of hors d'oeuvres, salads, and sandwiches will have guests itching to rejoin the line for a second helping. More importantly, they'll rave about your event long after it's over. We talked with Dominique Kharas, Kirby's San Antonio Director of Private Events & Marketing about their catering experience.
When working with us at Kirby's you have the ability to fully customize your event. The menu options are flexible and you can order as many items off the menu as you would like. It's up to you whether your event will feature Kirby's famous sliders or a selection of hot and cold hors d'oeuvres. With at least two days' notice, your event can feature a handcrafted, one-of-a-kind menu for your guests.
Do you need beverage or bar service for your event? We can do that. We also provide styling for the tables such as flower arrangements and special tablecloths upon request. We have the ability to go above and beyond simple tasks to make your next event memorable and stress-free.
Dominique has been with Kirby's Prime Steakhouse in San Antonio since day one. She started out as a server and now leads the marketing and event planning wing of this location. The variety of catering favorites is astounding: "Our peppered beef tenderloin skewers, grilled lamb chops & mini crab cakes," are among the favorites of customers, Dominique said. "Chef Davalos also makes an awesome cheese and fruit display."
Event Catering Menu Options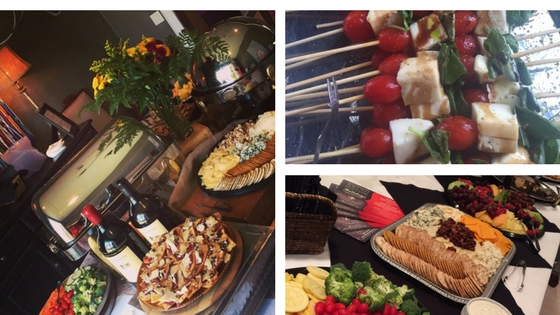 Cold Hors D'Oeuvres
Whether you decide to snag the cheese and fruit display or the jumbo snow crab claws your guests are sure to be impressed with the nosh from the cold hors d'oeuvres. More choices include jumbo shrimp cocktail, smoked salmon canapes, and Caprese skewers.
Hot Hors D'Oeuvres
Imagine rounding the table at your next event and finding Kirby's peppered beef tenderloin skewers steaming up the room. Your mouth will be watering as you and your guests take in the parmesan encrusted lamb chops, grilled tequila shrimp, and the mini crab cakes. If you believe a table isn't finished until it holds the bacon, don't worry, you can include bacon-wrapped shrimp too.
Salad Side Dishes
If salad is what you crave, Kirby's has plenty of options for you. The house and Caesar salads are a delicious and traditional choice. If you're looking to add a little flair, choose the Insalata Caprese or the Kirby's chopped salad. To make the salads a heartier meal choice, add grilled chicken to any of them.
Full Sandwich Options
We, here at Kirby's, take prime rib seriously, so when you choose the prime rib sandwich you know your guests will be delighted. You can also order Kirby's sliders or the herb-roasted turkey sandwich and listen to the murmurs of appreciation.
A la Carte Items
Mac n' cheese lovers will never forget your gathering if you choose the jalapeno mac n' cheese. There are so many delicious options – from the au gratin potatoes to the mushroom risotto – your guests will be lining up for a second helping.
Dessert Dishes
Don't forget to take care of your guests who have a sweet tooth. We've got you covered with Kirby's spice cake and handmade chocolate truffles. You can also choose from two types of bread pudding, bananas foster bread pudding or bourbon bread pudding.
No matter what your occasion's food needs include, we will help you craft the perfect menu.
"We have plenty of weddings and celebratory events, but typically not too many daytime menus are requested," Kirby's Marketing Director Ashley Avery said. "Last year we had a request to host a morning baby shower with full on the brunch menu. It was out of our wheelhouse a tad bit, but ready for the challenge, we happily accepted. Chef came up with a fabulous brunch menu that totally impressed the mommy to be."
If you have questions about what Kirby's Steakhouse can cater for your next event, take a look at the full catering menu by giving us a call at (210) 404-2221 and requesting it. You can also get more personal service by contacting Dominique Kharas at our San Antonio location.