Join us for an exciting wine dinner featuring Trefethen Wines!
Guests will be welcomed to mix and mingle before sitting to enjoy a delightful five course dinner, custom created by the talented Chef Clarence Alexander & culinary team to pair with five additional Trefethen varietals.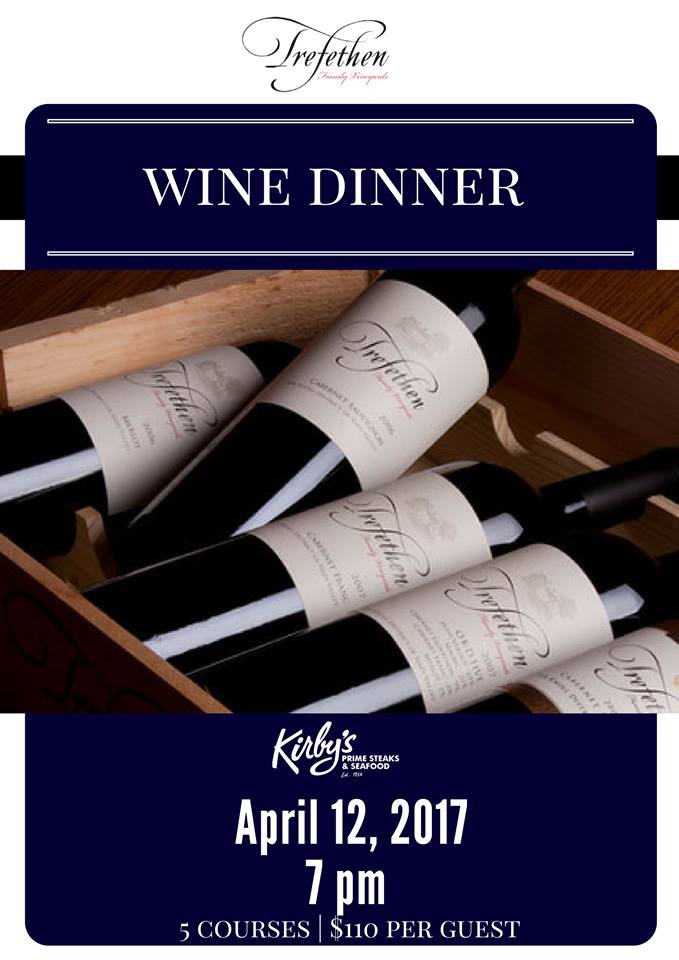 When: April 12th, 2017    –    7:00 pm
Where: Kirby's Steakhouse    –    1111 Timberloch Place, The Woodlands, TX 
What: 5 course dinner
How Much: $110 per person (excluding tax & gratuity)
How? Call 281.362.1121 to reserve your seat. 
"One Family, One Estate,One Passion"
During his decades as a key executive for Kaiser Industries, where he helped construct the San Francisco-Oakland Bay Bridge and the Hoover and Shasta dams, Eugene Trefethen and his wife Catherine entertained frequently, with scotch the socially mandated beverage of choice. But at family and business dinners, Catherine, a gifted chef and gardener, made sure the table was laden with good food – including fresh vegetables from her garden – and fine wine. When Gene retired in 1968, the wine-loving Trefethens moved to Napa Valley – then considered an agricultural backwater – where they purchased six small farms and the ramshackle 19th-century Eschol Winery, creating a 600-acre wine estate. At the time, there were fewer than 20 operational wineries in Napa Valley and many of its vineyards were on life support. Where others saw ruin, however, the visionary Trefethens saw enormous potential.
The couple's intention was to sell all their grapes, but their son John had other ideas. While studying at Stanford University's Graduate School of Business, John began making small batches of wine in the basement of his parents' Napa home. (John's original foray into fermentation, a batch of apple cider, went explosively awry in a friend's dorm room, one of many teenage escapades that earned him an enduring reputation as a mischief-maker.) His initial efforts, using trash cans as fermentation tanks, were unpromising. Yet, in 1973, aided by his new bride Janet, John produced Trefethen Vineyards' first commercial wine. Just three years later, the winery's 1976 Chardonnay earned "Best Chardonnay in the World" honors at the 1979 Gault Millau World Wine Olympics in Paris. That accomplishment, coupled with John's good business sense and determination to create a world-class wine estate, put Trefethen Vineyards on the global fine wine map.
Today, John devotes himself full-time to the family winery, inspiring the Trefethen team with his jocularity and still-youthful energy. A talented race car driver, he often spends weekends at the track lapping drivers half his age.
As Trefethen came to prominence during the 1970s, Janet Trefethen took responsibility for the winery's marketing efforts, becoming one of the wine industry's first female executives. Having grown up on a Northern California rice farm, Janet knew agriculture and was an accomplished horsewoman, yet she was initially greeted with derision in the heavily male-dominated world of wine. Her savvy and sparkling personality, however, soon won hearts and minds throughout the industry, establishing her as one of California's most engaging wine personalities. Along with Catherine Trefethen and several other female vintners, Janet also pioneered the promotion of wine with food, creating the groundbreaking Napa Valley Cooking Class in 1973.
Janet still works later at the winery than anyone – among other things, she designs every Trefethen wine label – yet she still finds time to cook dinner for her family and exercise her beloved cutting horses. Among the nation's top female cutting horse riders, she's earned a rare belt buckle from the Cowgirl Hall of Fame and was among the top five-ranked riders in the world in 2005.
John and Janet's children, Loren and Hailey, now work (voluntarily!) at the winery full-time. Having literally grown up in the middle of the family vineyard, the siblings have traveled widely with their parents throughout the world's leading wine regions. A graduate of Stanford University, Loren joined the winery in 2007 and has spent several summers immersed in vineyard and cellar operations, including a memorable harvest at famed Chateau Petrus in Bordeaux. He also is injecting new energy and ideas into the marketing and sales departments, with a focus on promoting direct and export sales of Trefethen wines. Hailey, who graduated from Santa Clara University in 2008 with a degree in Biological Anthropology, helped her parents chair the 2009 Napa Valley Wine Auction and wears a variety of hats, from marketing to production, even beekeeper of the estates bee hives. She currently works in viticulture & winemaking operations.
Hailey and Loren are often found together hatching schemes to make life at Trefethen even more exciting. Just as John and Janet took the reins from Eugene and Catherine in the 1970s, Loren and Hailey are poised to put their generation's stamp on the Trefethen credo of "One Family, One Estate, One Passion."